I'd heard Papa Bella's had became Uncle Louie's, but I'd been a bit lazy in regards to trying the new joint out. Actually - full disclosure - I told  the other dolt who has written a couple reviews on this site to check it out for me. After all, he was the dude who reviewed Papa Bella's. (When I went there to review it they had "run out of pizza dough". Nimrods.) Then a friend of mine texted me the picture shown above and demanded I get off my ass and review it.
I hope this place does well, and it probably will. The area needs a pizzeria. There used to be a Dominos in this same shopping center. I used to work there, in fact. For about a week. I was a delivery driver because they were short-staffed and my friend was an assistant manager. This could speak to any number of things but it probably has more to do with my work ethic than anything else: holy shit, that job sucked. After I was hired they were like, okay, get this, you won't be delivering pizzas all the time so if there's nothing going on just wash dishes and fold pizza boxes.
I think that's pretty standard as far as pizzerias go, but do you know what I did? Here's a clue, I didn't wash a single damn thing and I still don't know how the fuck those box wizards fold those infernal boxes into glorified pizza wombs. I just delivered pizzas. And it was still a nightmare. Well, in any case, that Dominos is now a bar (upgrade) and the only other pizzeria nearby is fucking Hoobies.
If you've been to Papa Bella's in the past (either its former incarnation or its former former incarnation), walking into the new Uncle Louie's might give you a bit of a shock. The interior is 100% different. The old setup was really going for the grungy bar feel. It had a certain charm which I would have respected except they were in a strip mall and they were just gross. Uncle Louie's is going for a more upscale approach. Upon entry I immediately wondered if this gameplan even had a chance at success, given the location. They seemed to be doing fine - at least at the bar - because it was sorta crowded. Papa Bella's never seemed so busy, from my limited experience (I used to live a short walk from this location but I preferred walking an extra second and getting a frozen pizza and a six-pack from Food Lion).
I have to say that I really liked the layout and vibe of the bar. Reasonable bar specials were an added, lovely bonus.
Sweet baby Jesus I guess I'll mention the pizza.
At first glance it's not a terribly impressive sight. Especially without the crushed red pepper applied as pictured above. The rim of the crust seems underdone (or raw, maybe) and overall it sort of looked boring-bordering-on-stupid.
It wasn't quite so bad, though.
I usually start with the bad but the first thing that hit me was that the cheese was pretty good. They're clearly using a good product here, which might have to do with the fact that they also have a vaguely upscale menu featuring dishes which also contain mozzarella. So the cheese was good and greasy and I have no real complaints there. The saucing of the pizza was reasonable. It was bordering on being undersauced but this only caused me to have a difficult time tasting it individually and therefore being able to critique it individually (good job, you sneaky fuckers). As near as I could tell, the sauce was okay and reasonably applied.
The dough was basically shit. It's not the worst in town but it's also not far off, either. The top rim looked nearly raw; the bottom of the slice looked much the same, except where it was overly charred. The char can most likely be chalked up to an oven that is not cleaned often enough; a sloppy kitchen staff. The rest of the dough being really dense and underdone (at some points close-to-raw) is more difficult to explain.
I'm going to put my crazy pizza wizard hat on and guess that their poor, sad dough balls never get proofed. Possibly under-yeasted as well. This abortiony kind of pizza smacks you right in the face because on the one hand the pies are incredibly thin but on the other hand there is no bounce to them. No crumb is developed, there is no spring to the crust and it merely becomes a sloppy vessel to deliver some toppings to your face. Is there anything wrong with that? Yes there is, because: It should be so easy:
High gluten flour. Salt it. Water it. Proof it. All of a sudden, baby, you got a stew goin'.
I like the bar.
4 1/2 recircs out of a possible 8 recircs (lower is better)
Uncle Louie's Pizza Lounge - $2.50 + tax
3224 Suite F North College Road, Wilmington, NC 28405
Eating an entire arid Saharan landscape would be preferable to this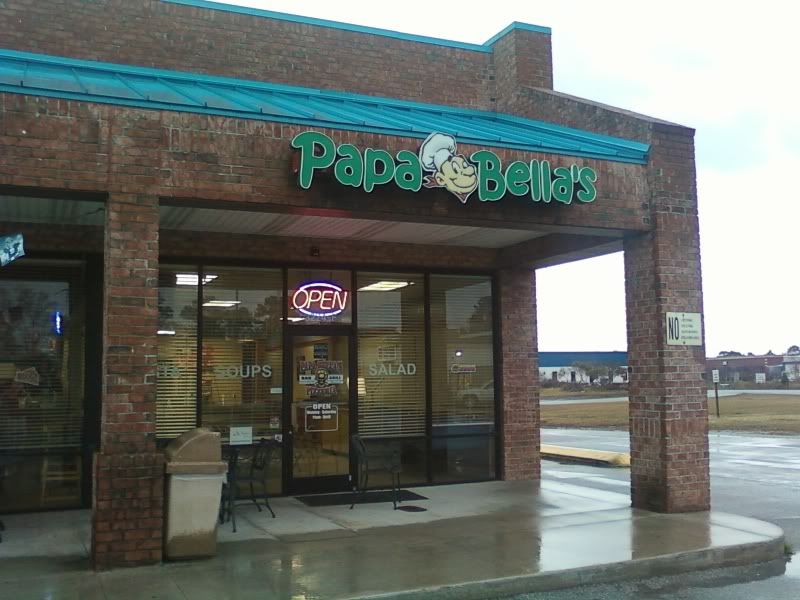 Papa Bella's Pizzeria is where underachievers congregate to brood over their past and imminent failures. It's located near North Chase, between the shittiest high school and the shitty community college in Wilmington, both of which I have had the displeasure of attending. Since Pete has been in an eternal, drunken coma recently, I took it upon myself to venture into the bowels of Wilmington and try this place out.
I brought my sister along with me in solidarity; if I was going to be forced to eat vile food, she would be too. Also, my phone was unable to take pictures, so I needed a photographer. Upon entering this establishment, my low expectations were somewhat lifted, mostly because it smelled god damn delicious in there. So I sat down with an odd feeling of optimism - a real rarity in this city. But I soon realized that the higher your hopes are, the easier and more satisfying they are to crush. I ordered a slice of cheese pizza for the blog and a slice of bacon & chicken pizza for possible personal enjoyment. The girl behind the counter let me know that chicken and bacon would cost me more than the other toppings, but apparently she has a thing for putrid, unkempt hobos like myself, so she told me I would get them on the cheap.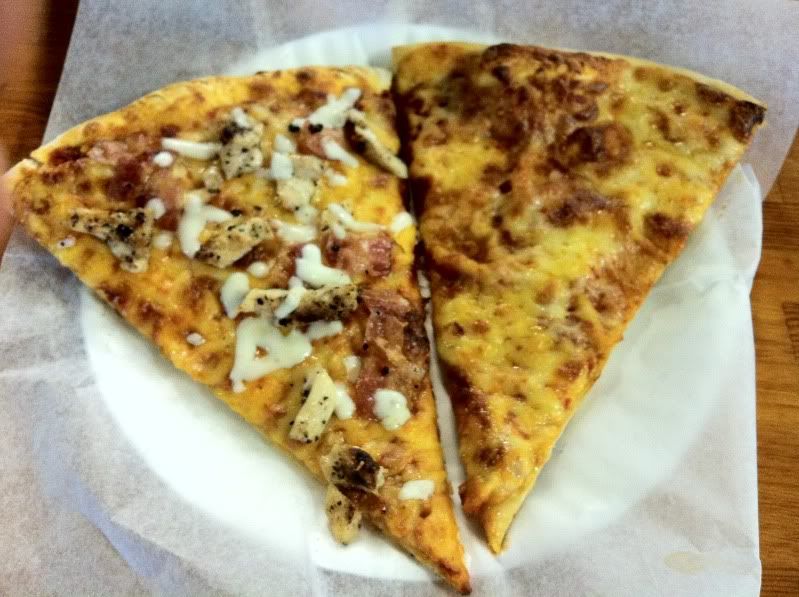 This picture makes the cheese look like the old, decrepit skin of a Himalayan sherpa. However, that should be attributed to the undeniable shittiness of my sister's phone. The cheese actually looked decent and didn't taste half-bad, either, aside from the cheese-less bubble at the rim. Although I am required to rate Papa Bella's on their cheese pizza alone, I feel the need to comment on the other slice as well. At first glance, it appeared that the cook had jizzed all over my meat pie, so I devoured it like a ravenous beast. To my immediate dismay, I realized that it was only melted cheese. Nonetheless, it was an interesting addition to the slice.
Back to the cheese. Expecting it to droop like Larry King's gonads, I lifted the slice up as gingerly as possible. My mind was blown when, unlike Antonio's slice, it held its shape without turning to goo. So far, so good. However, the first bite was somewhat of a let-down. While I enjoy thin pizza like any other dirty vagrant, Papa Bella's pizza was like paper. I was grateful I ordered two slices, because one would not have sufficiently satiated my hobo hunger. Although the parsimonious use of dough was disappointing, they were also frugal with their application of cheese. That was certainly a plus, because cheese clusterfucks piss me off like nothing else.
So their cheese was good, the service was friendly, and the place had a nice feel to it. Regrettably, that's where the positives ended for Papa Bella's. I would have been fine with the slimness of the pizza had the dough been good. But the dough, especially the crust, was so dry it literally turned to dust in my mouth. That fact was only made worse when I realized that the bottom of the pizza was heavily powdered with saliva-absorbent flour. Luckily, in a fit of prescience, I had ordered a glass of water ahead of time. This foresight proved invaluable - without the added hydration, I don't think my mouth would have ever recovered from the drought that pizza caused. I honestly have no idea how their cotton-mouthed, pothead customers survive without an IV-drip.
I made it through both slices with remnants of hunger pangs. I shied away from ordering another slice, instead opting to return home to eat my leftovers from Flaming Amy's. So I paid my tab, which was cheaper than it should have been thanks to that discounted bacon & chicken slice, and I actually left a bit of a tip. Perhaps it was because I heard one of the workers mention the possibility of them closing down. Apparently they're losing a lot of business to Hoobies (who would've guessed?). Actually, my generosity was most likely due to the fact that the service was friendly and the girl behind the counter was cute. I'm a sucker for girls who treat disheveled vagabonds like somewhat more respectable tramps. 50 cent discount? Yes please.
5 1/2 recircs out of a possible 8 recircs (lower is better)
Papa Bella's Pizzeria - $2.16
3224 N. College Rd., Wilmington, NC 28405
I'm going to take this inopportune moment to discuss my dissatisfaction with two pizzerias. First of all, fuck both these places. Rarely do I have the opportunity to go to this section of town. When I'm forced here, I'm really fucking forced there. It's crummy.
The first pizza place is god damn Papa Bellas. I used to live a fucking tenth of a mile from this place. I went there once and it was alright. I heard they changed ownership while keeping the name. This makes sense because instead of a pizzeria this place is now a bar. Just a bar. And they're so lazy they kept the random, empty salad bar sitting in the corner. The deal with this place is that they were "out of dough" at 3pm. Alright. Enjoy not existing in six months. Fucking idiots.
Numero Dos. Hoobies, on Exchange aka The place on North College no one goes unless you are my fatass ex-roommate or someone that works in the expansive office complex which houses this place. Luckily  for me, I went here after I went to Papa Bellas, and Hoobies was FUCKING CLOSED. AT 3:30PM.
Fuck this place to hell. I used to think this place was bad when I would come home from work, or from anything at all really, and find my roommate on the couch soloing a large Hoobies pizza in his lap. My view was fucking tainted! But regardless, this pizza looked like shit, I don't give a fuck. It used to look terrible. And now I know that on a certain workday they don't open til 4pm. And they're in a complex of office buildings. This place is run by idiots.
Fuck both of these places. Never go to them. Fuck these fucking places.