This place is open, what the shit?
I had given up on Hoobie's after peering through their window one day during business hours to see the place in complete disarray with no signage explaining their being mysteriously closed. When some people made it clear to me that this stupid place was actually still in business, I decided that for the sake of this blog's comprehensiveness I'd give it yet another shot. Hoobie's apparently doesn't sell slices but they did have a 10" pie for $3.23 after tax, which is pretty fucking cheap indeed. They seemed to be rather busy in there. I guess people like this place or something. I went here expecting the absolute worst.
Peculiar beast we have here, but it wasn't nearly as bad as I had anticipated. The crust had a general burnt taste to it. It appeared to be cooked on a screen. I don't know where the burnt taste really came from, maybe from residual char left on the screen/oven floor or something. It wasn't anywhere near as bad as the shit served up by Goodfellas, at least. The cheese was a bit of a conundrum. I don't think it was part-skim due to the high grease levels, but it sort of had that globby consistency. And the taste was a bit odd. Do they add another cheese in here besides mozzarella? Maybe provolone? I don't know. I'm probably entirely off base.
One positive that I am able to report is that the sauce was very good. It was a simple sauce and it tasted good. It wasn't fucked to hell with a bunch of unnecessary spices, which was unexpected and welcomed. That doesn't make up for the crummy crust and questionable cheese, though.
God bless you, Hoobie's, you factory of pizza, you.
Eating an entire arid Saharan landscape would be preferable to this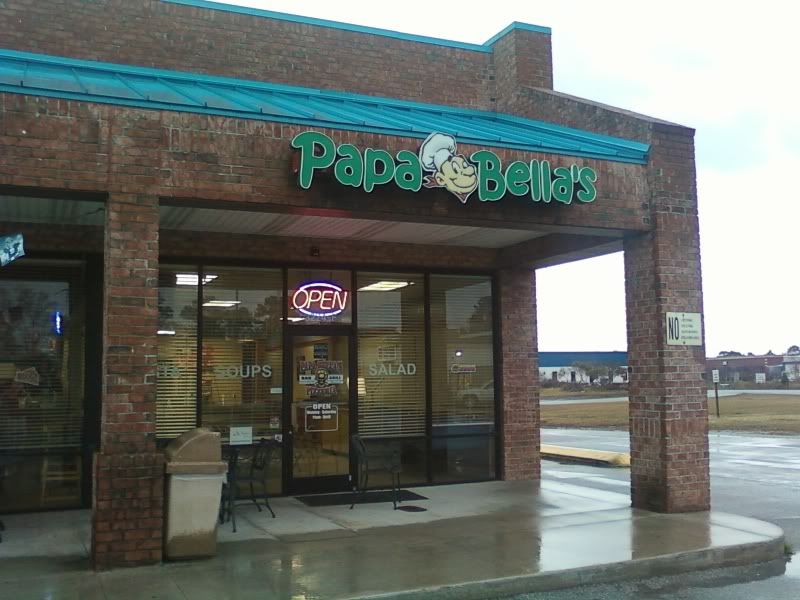 Papa Bella's Pizzeria is where underachievers congregate to brood over their past and imminent failures. It's located near North Chase, between the shittiest high school and the shitty community college in Wilmington, both of which I have had the displeasure of attending. Since Pete has been in an eternal, drunken coma recently, I took it upon myself to venture into the bowels of Wilmington and try this place out.
I brought my sister along with me in solidarity; if I was going to be forced to eat vile food, she would be too. Also, my phone was unable to take pictures, so I needed a photographer. Upon entering this establishment, my low expectations were somewhat lifted, mostly because it smelled god damn delicious in there. So I sat down with an odd feeling of optimism - a real rarity in this city. But I soon realized that the higher your hopes are, the easier and more satisfying they are to crush. I ordered a slice of cheese pizza for the blog and a slice of bacon & chicken pizza for possible personal enjoyment. The girl behind the counter let me know that chicken and bacon would cost me more than the other toppings, but apparently she has a thing for putrid, unkempt hobos like myself, so she told me I would get them on the cheap.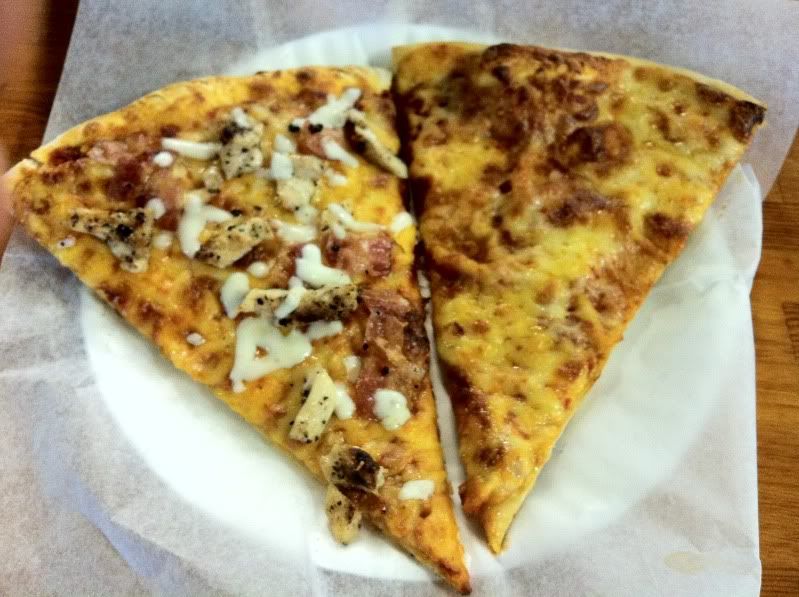 This picture makes the cheese look like the old, decrepit skin of a Himalayan sherpa. However, that should be attributed to the undeniable shittiness of my sister's phone. The cheese actually looked decent and didn't taste half-bad, either, aside from the cheese-less bubble at the rim. Although I am required to rate Papa Bella's on their cheese pizza alone, I feel the need to comment on the other slice as well. At first glance, it appeared that the cook had jizzed all over my meat pie, so I devoured it like a ravenous beast. To my immediate dismay, I realized that it was only melted cheese. Nonetheless, it was an interesting addition to the slice.
Back to the cheese. Expecting it to droop like Larry King's gonads, I lifted the slice up as gingerly as possible. My mind was blown when, unlike Antonio's slice, it held its shape without turning to goo. So far, so good. However, the first bite was somewhat of a let-down. While I enjoy thin pizza like any other dirty vagrant, Papa Bella's pizza was like paper. I was grateful I ordered two slices, because one would not have sufficiently satiated my hobo hunger. Although the parsimonious use of dough was disappointing, they were also frugal with their application of cheese. That was certainly a plus, because cheese clusterfucks piss me off like nothing else.
So their cheese was good, the service was friendly, and the place had a nice feel to it. Regrettably, that's where the positives ended for Papa Bella's. I would have been fine with the slimness of the pizza had the dough been good. But the dough, especially the crust, was so dry it literally turned to dust in my mouth. That fact was only made worse when I realized that the bottom of the pizza was heavily powdered with saliva-absorbent flour. Luckily, in a fit of prescience, I had ordered a glass of water ahead of time. This foresight proved invaluable - without the added hydration, I don't think my mouth would have ever recovered from the drought that pizza caused. I honestly have no idea how their cotton-mouthed, pothead customers survive without an IV-drip.
I made it through both slices with remnants of hunger pangs. I shied away from ordering another slice, instead opting to return home to eat my leftovers from Flaming Amy's. So I paid my tab, which was cheaper than it should have been thanks to that discounted bacon & chicken slice, and I actually left a bit of a tip. Perhaps it was because I heard one of the workers mention the possibility of them closing down. Apparently they're losing a lot of business to Hoobies (who would've guessed?). Actually, my generosity was most likely due to the fact that the service was friendly and the girl behind the counter was cute. I'm a sucker for girls who treat disheveled vagabonds like somewhat more respectable tramps. 50 cent discount? Yes please.
5 1/2 recircs out of a possible 8 recircs (lower is better)
Papa Bella's Pizzeria - $2.16
3224 N. College Rd., Wilmington, NC 28405