Round 2: Revenge of the shitty pizza
Newsflash: I'm not trying to destroy local small businesses. I'm not some goddamn Dominos plant, trying to shiv the little guy with the sharpened dick of eternal capitalist conflagration. I'm just a dude who purports to know more about pizza than virtually everyone around him. I operate via honesty alone. Regardless of one's opinion on capitalism, and therefore America, we can all agree that in a capitalist environment, the strong will thrive and the weak will fail (on the whole, all else being equal).
If a respectable number of people actually read this blog (they don't; I have full, in-depth access to the logs of this server), some of them may decide to not eat at a place based upon a review featured here. However, as far as I have been able to tell, through actual reader interaction, this blog has actually resulted in people patronizing local pizzerias, as opposed to causing potential patrons to run for cover (as they honestly fucking should). I got 'em in your doors. After that it's up to you to prove me wrong. Alas, it seems people generally agree with me after doing their own check-ins. In a nutshell: fuck anyone that critiques my awful blog on the basis of the unassailability of local small businesses.
My cohort, Capt. Falcon (as he so terribly dubbed himself), left a rather harsh review for Antonio's of Porter's Neck. As an editor, I considered editing that review and getting rid of his complaints about the pizza being "too hot." But, at the end of the day, I found the review to be fairly hilarious, and I felt that his mention of how completely ill-qualified he was to review a pizzeria balanced out his ridiculously left-field critique criteria. At that point it was effectively a wash; the reviewer was a worthless sack of shit and the pizzeria was who-gives-a-fuck. Life goes on. However, an employee/manager's post on that review had me second guessing myself. A request was made for me to review the pizza personally and I, in turn, acquiesced.
Here's the pizza I got. Like Capt. Falcon's, it was also somewhat inexplicably put in a to-go box, even after I said I'd be eating it at the restaurant:
Looking at this picture, it kind of looks like a small, cold, probably not-too-bad slice. That goes to show that my camera phone apparently sucks. The slice was piping hot. I will not complain about this fact; I just let it sit for a little bit before eating it because I am not an idiot. The slice still looked a bit off, anyway. What may not be apparent is that theres simply too much cheese on this slice. Maybe this is a trend - maybe this is the future of American pizza. Just keep adding motherfucking cheese until your entire client base dies of a collective borg-like heart attack and then open up some kind of stupid salad shop as a replacement. I for one do not welcome our new cheese overlords.
The real problem with too-much-cheese arises when that cheese also happens to be crummy. I can't explain this slice, or my rating thereof, in a meaningful way except by saying that the cheese was shitty. The owner/manager/whatever of this place can feel free to trump me by informing us of what gloriously unbeatable product they use. However, from my perspective, it's leagues below the kind of quality cheese you can find at I <3 NY, Brooklyn, Reel and Nino's. As an aside, you see the local small businesses I just mentioned? They serve a quality product and deserve to thrive. That's how this shit works and if you don't like it then you clearly hate America and are in league with terrorists.
The sauce was hidden almost entirely by the mountain of crappy cheese, so I can't give much comment on it. The crust seemed okay but it was overdone and quite dry. More salt in their dough formulation along with a higher hydration percentage (or shorter overall cook time) would go a long way. That said, when it comes down to it, all this slice really needs to be a competitor is better cheese, and preferably less of it. When I get a hot slice of pizza, the cheese shouldn't have a globby consistency; it should be deliciously stringy. That's not even up for debate. It should also, preferably, not have a foul taste that just gets worse and worse as you eat the slice. I came here hoping for some Antonio's redemption, but the bland, globby, dry slice of pizza simply did not win me over. I guess there's a reason most people drive a few miles past this place and get their pies from Brooklyn.
America.
6 1/2 recircs out of a possible 8 recircs (lower is better)
Antonio's Pizza & Pasta - $2.16
8211 Market Street, Wilmington, NC 28411
No cheese pizza at 2:30p.m.? Fuck you.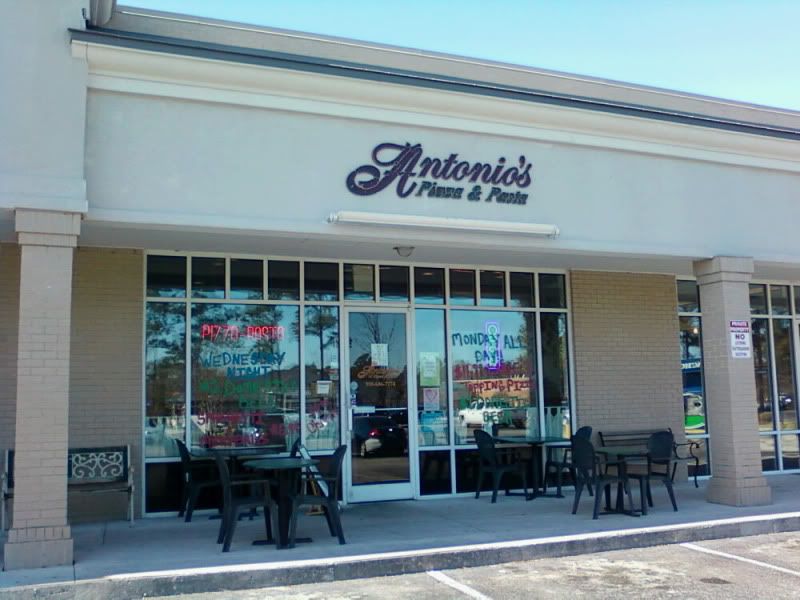 Greetings to all of Pete's non-existent readers. This is Capt. Falcon, and for my first review I was forced to eat at this god-forsaken, end-of-the-line hobo haven. Welcome to the Antonio's of Porter's Neck, where a single slice of god damn cheese pizza doesn't exist unless you ask for it explicitly, and where the roof of your mouth is guaranteed a spot in hell once it gets burnt to shit by their scalding hot food.
Before I get to the good stuff, I believe an introduction is in order. I am a guest reviewer on Ilmza, and, keeping with the tradition of this blog, I don't know shit about pizza. I have never made a pizza in my life, so I have no idea what goes into the cooking process. Actually, scratch that. I eat terrible frozen pizza on the reg, but the only thing that has taught me is how to set an oven to 400 degrees. Fahrenheit? Fuck if I know, I just eat god damn fatty food on a daily basis like every other gluttonous American beast roaming this despicable land. That is to say, I'm your average American dickshit with internet access. However, please don't let that detract from the perceived validity of my opinion. I don't regularly partake in the consumption of high quality foods, so I wouldn't know a delicacy from a rabbit turd if it hit me in my god damn gaping maw. However, I do know what shitty food tastes like, because that's all I eat and that's all that exists in Wilmington, NC. I may not know professional cuisine, but I sure as hell know what regurgitated shit tastes like, and Antonio's certainly ranks up there on my shit list.
I arrived at this establishment expecting mediocrity and received worse than I could have ever imagined. It was 2:30 in the afternoon, I had just gotten out of class, and what the fuck do you know - apparently a slice of cheese pizza is too much to ask of these shitdicks. The woman behind the counter was friendly, but seemed baffled by my presence. Upon taking my order - 2 slices of cheese - she informed me that they were all out due to the recent "lunch rush". I was livid with passive-aggressivism, but it was my duty to review some god damn pizza so I told her I would stick around for the 15 minutes it would take to cook an entire pizza just for me. In retrospect, I don't see how Antonio's could have a lunch rush whatsoever. I doubt anyone with tastebuds has ever double-dipped their dick in this shit hole.
Without further ado, here's the pizza I received: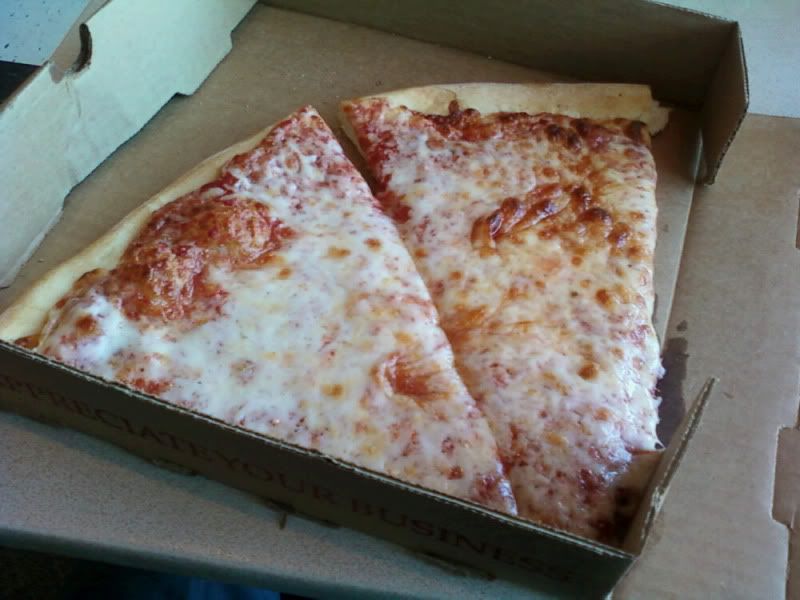 Trust me, it tasted worse than it looks. And it looks like two slabs of grandma-goat cheese, so that's saying a hell of a lot. Anyway, I was told it would take 15 minutes to cook, and I'm pretty sure it came out faster than expected. I would say that's a plus, but the roof of my mouth would vehemently disagree. In a rush to cook a pizza for what I can only assume was their first customer in weeks, the god damn cook turned the oven to over 9000 degrees. Sure, the pizza came out quick as a result, but my entire mouth was blasted to hell by their scalding hot, piss flavored cheese. And why the fuck is the pizza in a cardboard box, you ask? Fuck if I know. I made it very clear that I would be sticking around to eat their shitty pizza, but the woman handed me this cardboard box as if to say, "Here's your disgusting pizza, now get the fuck out." I can only assume that they're used to having customers stampede out of their doors upon viewing their horrendously macabre monstrosities. In defiance of my immediate urge to turn and run, I took my god damn seat, braced myself, and dove into this clusterfuck of cheese ass-first.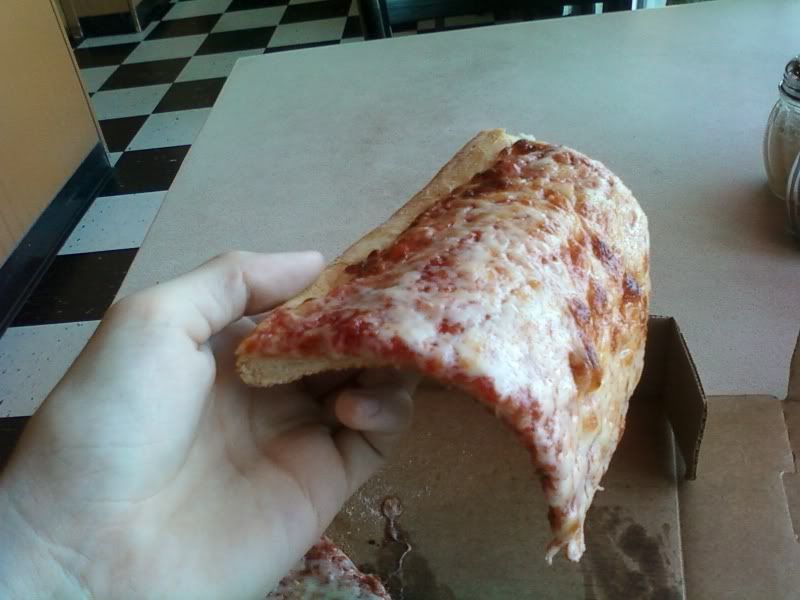 Wonderful first impression. Unlike my Golden Gate Bridge analogy of Incredible Pizza, this slice sagged not because of a poor length-to-thickness ratio, but because of a shoddy cooking job. The cheese sloughed off like a snake shedding its skin. The bottom of the pizza was coated in a layer of flour. The pizza itself couldn't hold up to a simple fold until halfway through the eating process. This shit went everywhere. Cheese was sliding off left and right, so, like the pig I am, I naturally scraped the remaining cheese off the cardboard box and grubbed. By the time I realized my hands were full-blown landfills in their own right, I noticed that Antonio's has no god damn napkins. Fucking no where to be found. If I were a respectable human being with a shred of dignity, this would bother me immensely. But I'm not, so I continually wiped my grimy hands on my pants. The usual.
So their pizza falls apart upon the slightest touch. No biggie. I'm used to eating pounds of fake, microwaved chicken pieces mixed with uncooked noodles and sauce of indiscernible origin. I'm no gustatory guru; I'm a fanatical food fucker. So as long as caloric intake is present, I'm generally content. But this shit from Antonio's was unacceptable, even by my standards. Their cheese smelled like it came from the teats of an aging Mexican llama. It was probably some fancy shit that I've never heard of - some exotic cheese that only eccentric motherfuckers like. Either that, or it really was just cheap shit that had been lying around for a few years. Either way, the scent alone left me feeling like a bulimic high-schooler. Gag reflex all up in that bitch. And the crust wasn't the most amazing, either. If I actually knew anything about pizza, I would probably compare it to that all-purpose flour that Pete always alludes to when he talks about shitty shitburgers. All I know is it tasted like my mom's old pizza crust, which is to say, extremely sub-par. I can't say anything about the sauce, though , because I was too busy focusing on the cheese constantly destroying my face.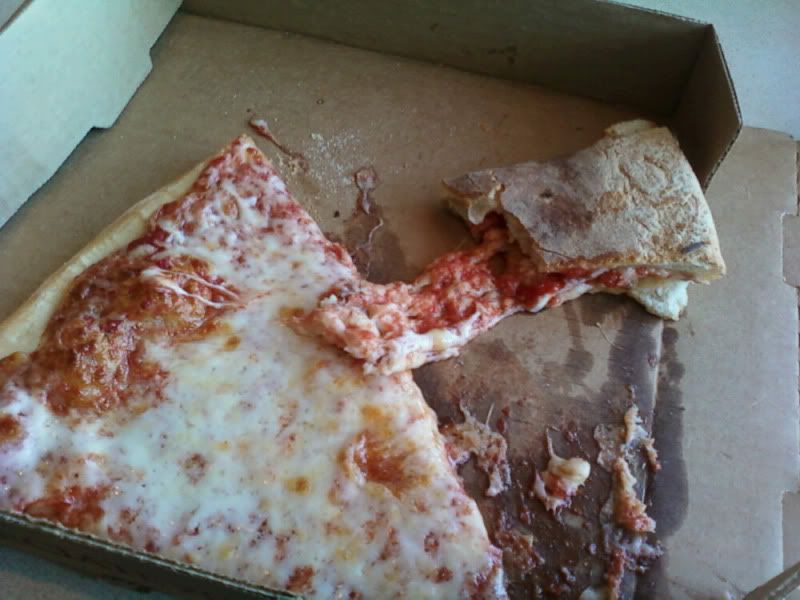 That shit happened every single time I took a bite. Cheese exploded in the general vicinity of fucking everywhere. It was practically liquid. Perhaps if these kumquat-fucking numbnuts took their damn time making pizza, I wouldn't look like a toddler with liquefied food dribbling down my face. The only good thing I can say about this nonsensical bullshit is that the food was edible. By some divine intervention of the hand of Jesus tittyfucking Christ, I made it through both slices without puking my balls up. However, there was darkness on the horizon. I can say with confidence, this was the first time I have ever consumed something while knowing full well the havoc it would later wreak on my bowels. The ominous cloud of foreshadowed toilet worship was not just real - not just surreal - it was god damn diarrheal. It was as if the receipt from this god damn location knew what I was thinking; at the bottom it read "Arrivedercci" in all caps. For my countless uncultured, philistine readers, that is a misspelling of the Italian word for "till we meet again". Fucking ominous way to end the meal. The only time I'll see Antonio's food again is when it comes blasting out my anus in the form of a bile-infused, gastrointestinal, raging waterfall the likes of which the world has never seen.
As I finish up this review, violently hammering my keyboard with my grease-fucked fingertips, I am still peeling skin off the roof of my mouth. I have third-degree burns in the cavernous, gaping abyss known as my mouth because of you fucking readers (who?). Fuck. I can say with conviction that I will never return to the hellhole that is Antonio's Pizza, unless their disastrous shit mind-fucks me into blacking out the past 24 hours. I wouldn't doubt it. If there is anyone on the face of the Earth reading this worthless blog post, heed this advice and avoid this establishment at all costs. It will wreck your shit.
Unless you're that 700-lb motherfucker that walked in when I was halfway through my 2nd slice. He ordered a god damn entire pizza for himself. He wasn't taking it home. I watched him sit and gobble that shit up like those starving Chinese children my parents always spoke of. That fucking whale of a motherfucker probably supplies Antonio's with enough daily income for them to stay open for eternity. Fuck America.
7 1/2 recircs out of a possible 8 recircs (lower is better)
Antonio's Pizza & Pasta - $2.16
8211 Market Street, Wilmington, NC 28411
This shit is just fucking terrible
You think this picture is shitty? Fuck you, the pizza was worse.
Okay, I'm changing up the motherfucking dynamic. I am live blogging the creation of this blog. I don't think this has ever been done in the history of the internet so get ready for history creation. I will call it liveblogblogging.
Right now I'm a bit drunk. The blog is going pretty well. Who knows where it could go. There's a fair amount of excitement in the air. Right now we are aware that the blog is about Antonio's. Actually I think this will soon devolve into infinite recursion, which is the only thing I know of worse than infinite recircumcision. End of liveblogblogging.
Antonio's is a local chain sort of place. I think they had about three locations; now they have about two locations. As of tonight, I've been to three of the locations, including the one that's now closed. I've never been really impressed with the slice. You'd think that if a place is successful enough to open more locations, that they must be good (example: Brooklyn). This is proven incredibly wrong by the following: Antonio's, Krazy, Gumby's, Slice of Life, and probably others. Like Dominos, Papa Johns and Pizza Hut. And basically every other place that has multiple locations.
I was planning on going to 3 pizzerias tonight, to get this shit over with as quickly as possible. So, first I went to Slice of Life's new location on South College. It was packed as shit in there (no space at the bar), so I left there and I went to Michaelangelo's on South College. I asked for a slice of plain pizza, and, wonder of wonders, they were plum out. How does that happen? Maybe they ran out of cheese. Fuck these guys because that doesn't even make sense. Every pizza has cheese on it, and they had other pies out there. Out of double-deep fried herpdong pizza? Okay, I understand. You can't run out of cheese pizza, though. It's inexcusable. Fuck you guys.
So then I went to Antonio's on South College and it was as bad as I expected. Actually it was worse. The crust was terrible. Look at the rim on this crust, fuck it. Also, it was a total fakeout: It looked pretty good right off the bat, but look a bit closer and you can tell it's made from all-purpose flour or some garbage. Maybe it is made from actual garbage, I don't know. Basically, you can pretty quickly tell that the dough is going to be fucky. However, it had a nice crunch to it and it seemed cooked alright at first glance. But fuck that shit: the crust was dry as hell, and it was flavorless. And some of the god damned dough seemed raw and some of it seemed overcooked to shit.
The sauce was passable and the cheese was worthless, like the slice as a whole. The cheese was completely flavorless garbagetown nothingness. Fuck this slice, fuck this restaurant, fuck all these people straight to hell. When I was eating my slice outside, multiple people called me brave. Alright. I know this is the south but 40+ degree weather does not require bravery, it requires clothing. Fuck you guys, too.
Also the slice was expensive all get out. Don't charge me $2.43 for a shitty plain slice, you fucking bastards. Give it to me free and apologize. If anyone from Antonio's is reading this, here are some fucking free tips you fucking fuckface fuckers: 1. buy better cheese; 2. some spice, somewhere, wouldn't hurt; look up 'salt' in a dictionary and consider adding it to your dough; 3. fuck you; 4. buy some decent flour. I buy my high gluten pizza flour from a bagel place in town (Ken's) and my dough destroys you. I'm not even a pizzeria, I'm just fatass idiot. Fuck you guys.
I take it back, infinite recircumcision is way worse that infinite recursion. I don't know what I was thinking.
Rating:
7 recircs out of a possible 8 recircs (lower is better)
Antonio's Pizza & Pasta - $2.43
5120 S College Rd # 122, Wilmington, NC 28412