When in Atlanta, kill yourself.
I flew out to Canada recently, and I had a long-ass layover in Atlanta. I passed the time by finally continuing the fourth book in the series I'm reading and also by consuming the shittiest, stupidest, most god-awful pizza I have ever set my tastebuds on. It was Sbarro. Airport Sbarro. Now you may be thinking Captain, isn't eating ATL pizza instead of ILM pizza considered food heresy? Yes, god damn it, and I don't give a shit. Pete stole the last review from me, and I demand recompense. In all fairness, though, this pizza did manage to keep me shitting acid for a full 2 weeks, so some of it did end up in the Wilmington sewers (where it belongs).
Atlanta's airport is full of shitty people, oddly clean bathrooms, and expensive garbage at which to throw money. All of the food falls under the 'expensive garbage' category, but Sbarro's pizza is in a league of its own. There were a total of 4 menu items, collectively worth an arm and a dick. Prepared to lose one or the other, I walked up to the counter with my order ready. It was a coin-flip decision because their only two options were 'bland styrofoam cheese' and 'gourmet barbecue'. The woman (read: Pacman Scissorhands) was apparently too lazy or too daft to put together their other two menu items: meat lover's and mushroom-something-or-other. Considering that the cheese pizza probably tasted like the cold, empty void of space, I went with the barbecue monstrosity. The Swedish kid behind me ordered pepperoni three whole times before the cashier screamed at him, "WE AIN'T GOT NO PEPPERONI, CHILD." Meanwhile, I was staring down at this hunk of pre-fab bullshit.
I don't know what goes into the pizza-making process here. I assume they get shipments of pre-cooked dough, soggy cheese slabs, and discarded animal bits, throw them all together in a microwave or toaster over, and voila - masterpiece. I could be wrong, but either way this shit was terrible. It was the furthest thing from "gourmet" that you could imagine, and selling it should be illegal in all 50 states. By the time I was done with my first slice, the kid who was behind me in line was chowing down on his personal cheese pie. In his words,
"This pizza is totally gummy worms, except bad tasting."
I couldn't put it better myself, you blonde-haired IKEA bastard. The cheese fell off all at once, and the crust was chewier than a wookiee. All I could taste was barbecue sauce and sadness. As you can see in the picture, there was some red sauce atop the chicken. I am convinced that this was not pizza sauce, but rather the reheated blood of Sensei Sbarro after he seppuku'd himself with a pair of dirty chopsticks. You bring shame on your family, but your congealed lifeblood tastes oh so sweet.
In all seriousness, I knew what I was getting myself into before I ordered this circle of self-loathing. A chain pizza restaurant in an airport? That's a recipe for shitty recipes. I paid good money for a pre-packaged blob of barbecue-flavored nothingness and a permanent stomach ache. And I did it for you jerkoffs, so you could revel in my misery.
7 1/2 recircs out of a possible 8 recircs (lower is better)
Sbarro - $Too Much
6000 North Terminal Parkway, Atlanta, Georgia 30320
ed. note: The original review for this establishment is a fart in the wind, I got this jerk to re-review for me. - Pete
I found the old review. God bless backups. I'll keep this one around to show how hit-or-miss this wacky-ass place can be. - Pete
Surprisingly edible.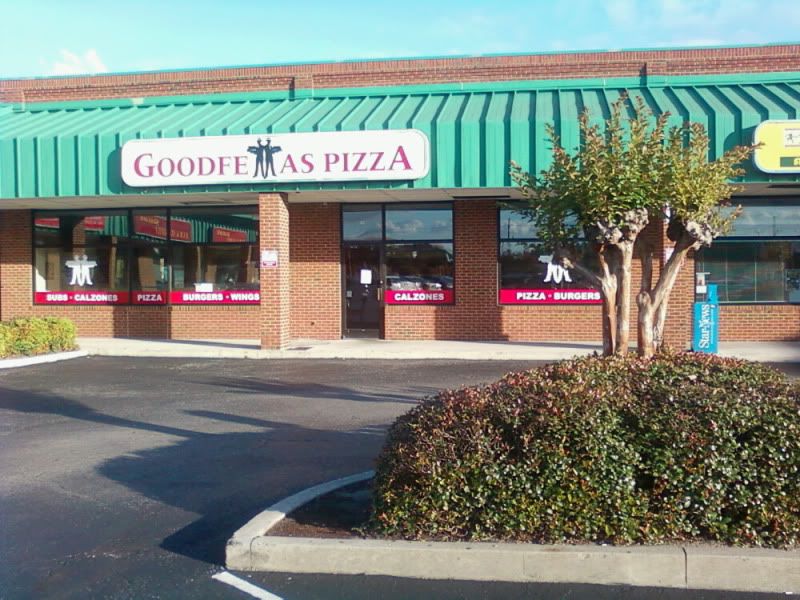 Goodfellas Pizza  is  located in the University Landing area. The first time I attempted to eat here, luck was not on my side. According to the sign on the door, it was "closed for family emergency". Well fuck your family emergency - my pizza emergency trumps your shit any day. I had an hour to waste before class that day, and although the idea of breaking into Goodfellas and handcrafting my own pizza was tempting, I decided to go to Bdobo instead. Yes, I just linked to Bdobo. It's fucking delicious and likely steals all business from the surrounding area.
That aside, I returned to Goodfellas a few days later. It was much bigger on the inside than I anticipated, yet it was completely empty. Perhaps I came at a weird hour, who the hell knows. I was offered a seat and a menu, but I said, "No, fuck you, I just want some god damn cheese pizza." I think I prefer the pizza joints in New York where they reply, "Fuck you too, faggot" and throw the pizza directly at your groin, but I suppose a nice atmosphere and friendly staff shouldn't detract from my rating. I ended up getting two slices of pizza and a drink for $4.99, because a) I'm a ravenous, pizza-starved fatass, and b) $2.50+tax for a single plain slice? Piss off.
I was surprised to see that, unlike the other two establishments I've reviewed, this pizza didn't look like complete and utter shit. Upon handing it to me, the waitress/cashier notified me of her uncertainty as to what was actually in the drink she gave me. I ordered Dr. Pepper, but apparently all their drinks exist in a state of quantum uncertainty until the moment they are consumed. I can only assume I received a lethal mixture of high fructose corn syrup and hydrochloric acid. Thankfully, this was promptly replaced with slightly less dangerous Dr. Pepper. After that - and after the waitress saw me taking pictures of the food and scribbling down notes - she offered me an infinite amount of refills, which I injected straight into my bloodstream, bypassing my stomach, and allowing more room for the pizza to gut-fuck me into oblivion.
But who fucking cares about what I had to drink. The pizza was surprisingly good, and I immediately decided $2.50 for a single slice might actually be worth it, even for a penniless hobo like myself. The slice's most noteworthy quality was the cheese. I have no idea what they use or how they do it, but the cheese tasted of ambrosia-infused godliness. It was as if the Occupy Capt. Falcon's Mouth protest was going on, and I was happily allowing the cheese to riot and form drum circles on my tastebuds. 99% delicious.
Also of note - fairly large slices, perfectly thin crust, and a favorable amount of grease to top it off. After I had finished most of the first slice and the cheese was moshing in my gut, I noticed the rim of the pizza had been somewhat neglected. It wasn't much a problem, though, due to the fact that the crust was quite satisfying. I didn't have the presence of mind to judge the sauce, either because I know nothing about pizza sauce or because I was too busy drooling all over myself. Either way, the sauce must not have been too bad, because I dove into the next slice like a starving Ethiopian child.
I'm so used to Falcon punching my keyboard with flaming fists of rage while writing these reviews that it seems wrong not to slander Goodfellas in some way. They were closed the first time I went there, which I would love to be pissed off about, but really that just shows that they're a family-run business, at least in part. I received the wrong drink, but the waitress soon extinguished my fury by treating me like the ultimate god of pizza. Also, I didn't get crayons and a page from a coloring book like the kids a few tables over, but the waitress metaphorically sucking my dick assuaged any dissatisfaction before it had a chance to fully form.
My only real concern came from the second slice, which had an odd dough-to-cheese ratio. There was a tsunami of cheese atop a paper-thin scaffold, but, being the cheesewhore I am, I wasn't too bothered by that. All in all, shit was pretty good. I'd rank it just below Brooklyn and I <3 NY Pizza, which is something I never anticipated, seeing as Pete usually sends me to the shittiest shit-holes in town. If I'm ever in the area and in the mood for pizza, I'll definitely return to Goodfellas.
As long as Bdobo doesn't lure me away.
2 recircs out of a possible 8 recircs (lower is better)
Goodfellas Pizza - $2.50 + tax
417 South College Road, Wilmington, NC 28403
Eating an entire arid Saharan landscape would be preferable to this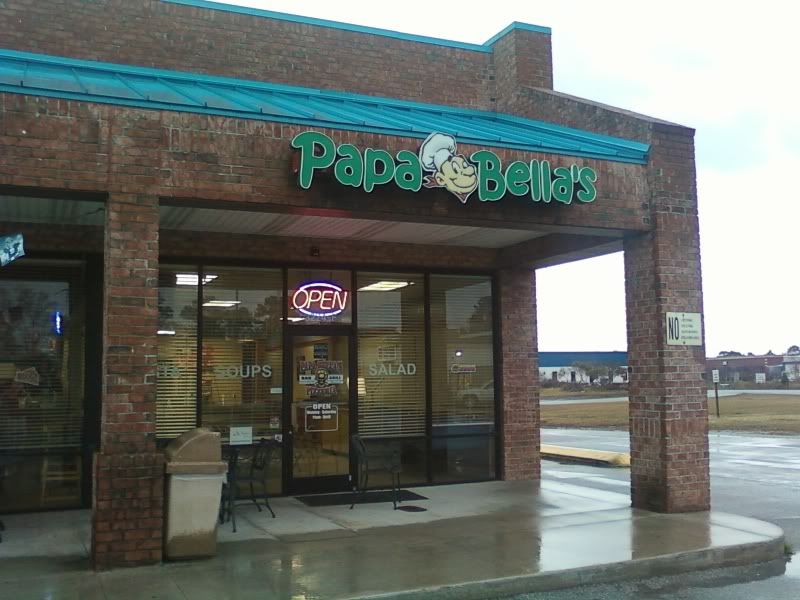 Papa Bella's Pizzeria is where underachievers congregate to brood over their past and imminent failures. It's located near North Chase, between the shittiest high school and the shitty community college in Wilmington, both of which I have had the displeasure of attending. Since Pete has been in an eternal, drunken coma recently, I took it upon myself to venture into the bowels of Wilmington and try this place out.
I brought my sister along with me in solidarity; if I was going to be forced to eat vile food, she would be too. Also, my phone was unable to take pictures, so I needed a photographer. Upon entering this establishment, my low expectations were somewhat lifted, mostly because it smelled god damn delicious in there. So I sat down with an odd feeling of optimism - a real rarity in this city. But I soon realized that the higher your hopes are, the easier and more satisfying they are to crush. I ordered a slice of cheese pizza for the blog and a slice of bacon & chicken pizza for possible personal enjoyment. The girl behind the counter let me know that chicken and bacon would cost me more than the other toppings, but apparently she has a thing for putrid, unkempt hobos like myself, so she told me I would get them on the cheap.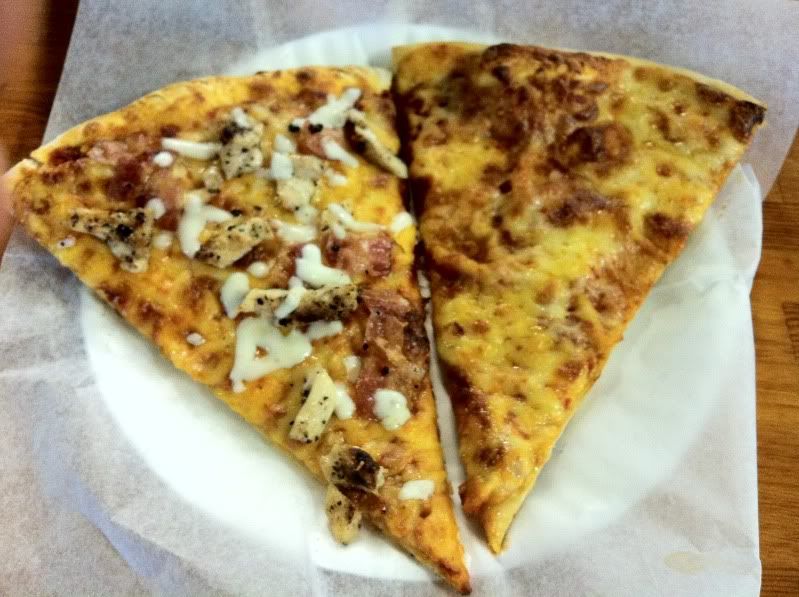 This picture makes the cheese look like the old, decrepit skin of a Himalayan sherpa. However, that should be attributed to the undeniable shittiness of my sister's phone. The cheese actually looked decent and didn't taste half-bad, either, aside from the cheese-less bubble at the rim. Although I am required to rate Papa Bella's on their cheese pizza alone, I feel the need to comment on the other slice as well. At first glance, it appeared that the cook had jizzed all over my meat pie, so I devoured it like a ravenous beast. To my immediate dismay, I realized that it was only melted cheese. Nonetheless, it was an interesting addition to the slice.
Back to the cheese. Expecting it to droop like Larry King's gonads, I lifted the slice up as gingerly as possible. My mind was blown when, unlike Antonio's slice, it held its shape without turning to goo. So far, so good. However, the first bite was somewhat of a let-down. While I enjoy thin pizza like any other dirty vagrant, Papa Bella's pizza was like paper. I was grateful I ordered two slices, because one would not have sufficiently satiated my hobo hunger. Although the parsimonious use of dough was disappointing, they were also frugal with their application of cheese. That was certainly a plus, because cheese clusterfucks piss me off like nothing else.
So their cheese was good, the service was friendly, and the place had a nice feel to it. Regrettably, that's where the positives ended for Papa Bella's. I would have been fine with the slimness of the pizza had the dough been good. But the dough, especially the crust, was so dry it literally turned to dust in my mouth. That fact was only made worse when I realized that the bottom of the pizza was heavily powdered with saliva-absorbent flour. Luckily, in a fit of prescience, I had ordered a glass of water ahead of time. This foresight proved invaluable - without the added hydration, I don't think my mouth would have ever recovered from the drought that pizza caused. I honestly have no idea how their cotton-mouthed, pothead customers survive without an IV-drip.
I made it through both slices with remnants of hunger pangs. I shied away from ordering another slice, instead opting to return home to eat my leftovers from Flaming Amy's. So I paid my tab, which was cheaper than it should have been thanks to that discounted bacon & chicken slice, and I actually left a bit of a tip. Perhaps it was because I heard one of the workers mention the possibility of them closing down. Apparently they're losing a lot of business to Hoobies (who would've guessed?). Actually, my generosity was most likely due to the fact that the service was friendly and the girl behind the counter was cute. I'm a sucker for girls who treat disheveled vagabonds like somewhat more respectable tramps. 50 cent discount? Yes please.
5 1/2 recircs out of a possible 8 recircs (lower is better)
Papa Bella's Pizzeria - $2.16
3224 N. College Rd., Wilmington, NC 28405
No cheese pizza at 2:30p.m.? Fuck you.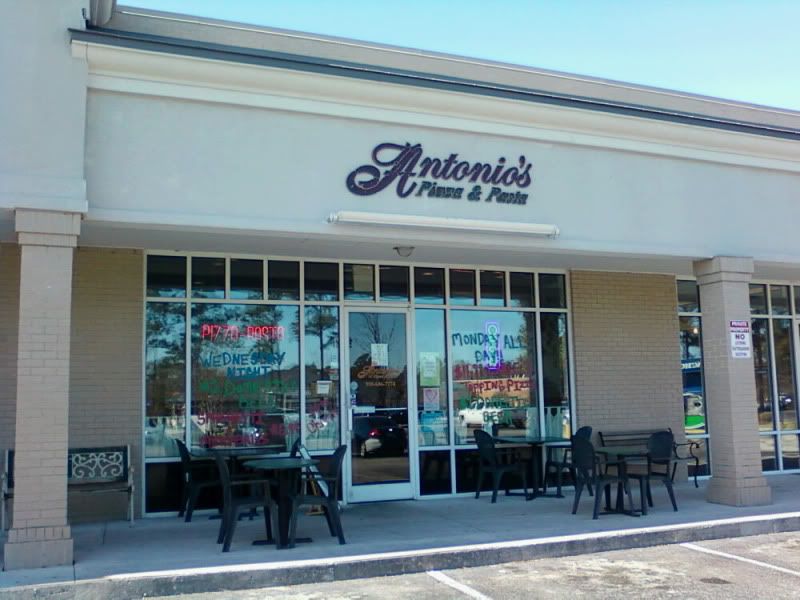 Greetings to all of Pete's non-existent readers. This is Capt. Falcon, and for my first review I was forced to eat at this god-forsaken, end-of-the-line hobo haven. Welcome to the Antonio's of Porter's Neck, where a single slice of god damn cheese pizza doesn't exist unless you ask for it explicitly, and where the roof of your mouth is guaranteed a spot in hell once it gets burnt to shit by their scalding hot food.
Before I get to the good stuff, I believe an introduction is in order. I am a guest reviewer on Ilmza, and, keeping with the tradition of this blog, I don't know shit about pizza. I have never made a pizza in my life, so I have no idea what goes into the cooking process. Actually, scratch that. I eat terrible frozen pizza on the reg, but the only thing that has taught me is how to set an oven to 400 degrees. Fahrenheit? Fuck if I know, I just eat god damn fatty food on a daily basis like every other gluttonous American beast roaming this despicable land. That is to say, I'm your average American dickshit with internet access. However, please don't let that detract from the perceived validity of my opinion. I don't regularly partake in the consumption of high quality foods, so I wouldn't know a delicacy from a rabbit turd if it hit me in my god damn gaping maw. However, I do know what shitty food tastes like, because that's all I eat and that's all that exists in Wilmington, NC. I may not know professional cuisine, but I sure as hell know what regurgitated shit tastes like, and Antonio's certainly ranks up there on my shit list.
I arrived at this establishment expecting mediocrity and received worse than I could have ever imagined. It was 2:30 in the afternoon, I had just gotten out of class, and what the fuck do you know - apparently a slice of cheese pizza is too much to ask of these shitdicks. The woman behind the counter was friendly, but seemed baffled by my presence. Upon taking my order - 2 slices of cheese - she informed me that they were all out due to the recent "lunch rush". I was livid with passive-aggressivism, but it was my duty to review some god damn pizza so I told her I would stick around for the 15 minutes it would take to cook an entire pizza just for me. In retrospect, I don't see how Antonio's could have a lunch rush whatsoever. I doubt anyone with tastebuds has ever double-dipped their dick in this shit hole.
Without further ado, here's the pizza I received: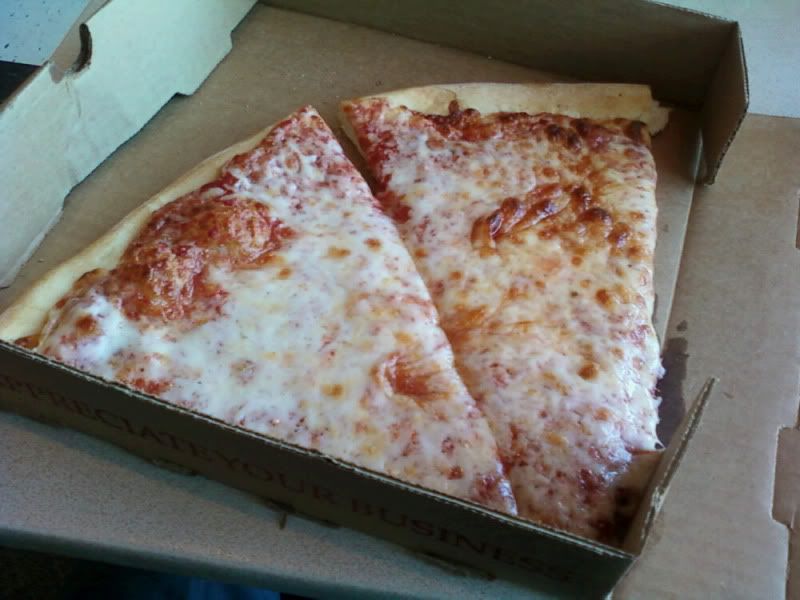 Trust me, it tasted worse than it looks. And it looks like two slabs of grandma-goat cheese, so that's saying a hell of a lot. Anyway, I was told it would take 15 minutes to cook, and I'm pretty sure it came out faster than expected. I would say that's a plus, but the roof of my mouth would vehemently disagree. In a rush to cook a pizza for what I can only assume was their first customer in weeks, the god damn cook turned the oven to over 9000 degrees. Sure, the pizza came out quick as a result, but my entire mouth was blasted to hell by their scalding hot, piss flavored cheese. And why the fuck is the pizza in a cardboard box, you ask? Fuck if I know. I made it very clear that I would be sticking around to eat their shitty pizza, but the woman handed me this cardboard box as if to say, "Here's your disgusting pizza, now get the fuck out." I can only assume that they're used to having customers stampede out of their doors upon viewing their horrendously macabre monstrosities. In defiance of my immediate urge to turn and run, I took my god damn seat, braced myself, and dove into this clusterfuck of cheese ass-first.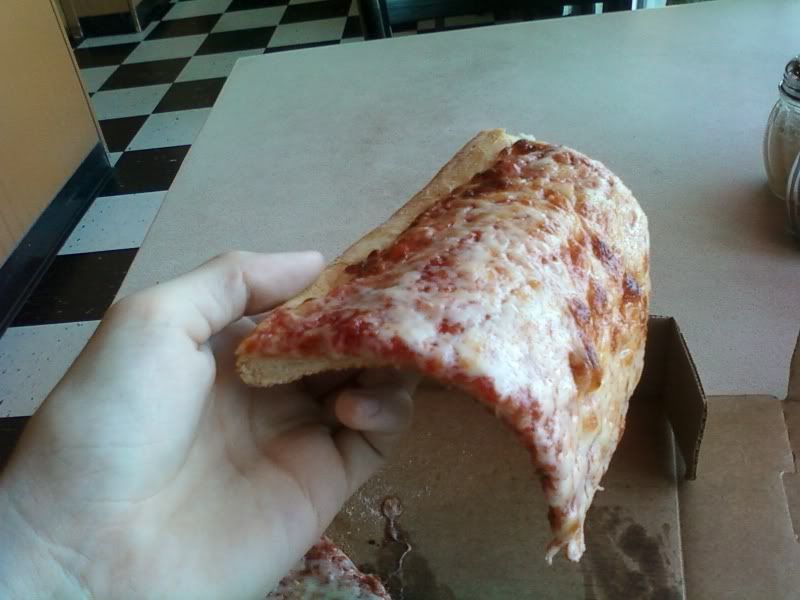 Wonderful first impression. Unlike my Golden Gate Bridge analogy of Incredible Pizza, this slice sagged not because of a poor length-to-thickness ratio, but because of a shoddy cooking job. The cheese sloughed off like a snake shedding its skin. The bottom of the pizza was coated in a layer of flour. The pizza itself couldn't hold up to a simple fold until halfway through the eating process. This shit went everywhere. Cheese was sliding off left and right, so, like the pig I am, I naturally scraped the remaining cheese off the cardboard box and grubbed. By the time I realized my hands were full-blown landfills in their own right, I noticed that Antonio's has no god damn napkins. Fucking no where to be found. If I were a respectable human being with a shred of dignity, this would bother me immensely. But I'm not, so I continually wiped my grimy hands on my pants. The usual.
So their pizza falls apart upon the slightest touch. No biggie. I'm used to eating pounds of fake, microwaved chicken pieces mixed with uncooked noodles and sauce of indiscernible origin. I'm no gustatory guru; I'm a fanatical food fucker. So as long as caloric intake is present, I'm generally content. But this shit from Antonio's was unacceptable, even by my standards. Their cheese smelled like it came from the teats of an aging Mexican llama. It was probably some fancy shit that I've never heard of - some exotic cheese that only eccentric motherfuckers like. Either that, or it really was just cheap shit that had been lying around for a few years. Either way, the scent alone left me feeling like a bulimic high-schooler. Gag reflex all up in that bitch. And the crust wasn't the most amazing, either. If I actually knew anything about pizza, I would probably compare it to that all-purpose flour that Pete always alludes to when he talks about shitty shitburgers. All I know is it tasted like my mom's old pizza crust, which is to say, extremely sub-par. I can't say anything about the sauce, though , because I was too busy focusing on the cheese constantly destroying my face.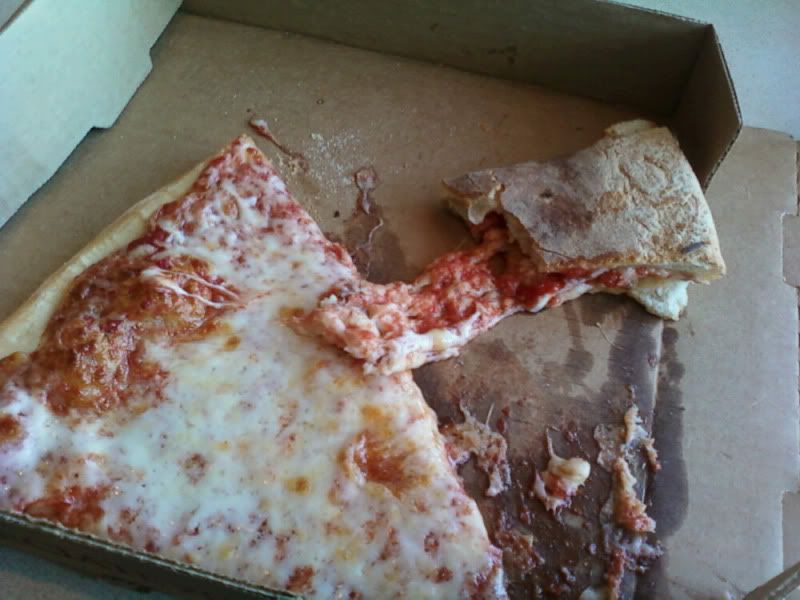 That shit happened every single time I took a bite. Cheese exploded in the general vicinity of fucking everywhere. It was practically liquid. Perhaps if these kumquat-fucking numbnuts took their damn time making pizza, I wouldn't look like a toddler with liquefied food dribbling down my face. The only good thing I can say about this nonsensical bullshit is that the food was edible. By some divine intervention of the hand of Jesus tittyfucking Christ, I made it through both slices without puking my balls up. However, there was darkness on the horizon. I can say with confidence, this was the first time I have ever consumed something while knowing full well the havoc it would later wreak on my bowels. The ominous cloud of foreshadowed toilet worship was not just real - not just surreal - it was god damn diarrheal. It was as if the receipt from this god damn location knew what I was thinking; at the bottom it read "Arrivedercci" in all caps. For my countless uncultured, philistine readers, that is a misspelling of the Italian word for "till we meet again". Fucking ominous way to end the meal. The only time I'll see Antonio's food again is when it comes blasting out my anus in the form of a bile-infused, gastrointestinal, raging waterfall the likes of which the world has never seen.
As I finish up this review, violently hammering my keyboard with my grease-fucked fingertips, I am still peeling skin off the roof of my mouth. I have third-degree burns in the cavernous, gaping abyss known as my mouth because of you fucking readers (who?). Fuck. I can say with conviction that I will never return to the hellhole that is Antonio's Pizza, unless their disastrous shit mind-fucks me into blacking out the past 24 hours. I wouldn't doubt it. If there is anyone on the face of the Earth reading this worthless blog post, heed this advice and avoid this establishment at all costs. It will wreck your shit.
Unless you're that 700-lb motherfucker that walked in when I was halfway through my 2nd slice. He ordered a god damn entire pizza for himself. He wasn't taking it home. I watched him sit and gobble that shit up like those starving Chinese children my parents always spoke of. That fucking whale of a motherfucker probably supplies Antonio's with enough daily income for them to stay open for eternity. Fuck America.
7 1/2 recircs out of a possible 8 recircs (lower is better)
Antonio's Pizza & Pasta - $2.16
8211 Market Street, Wilmington, NC 28411